Solution
Central Compliance Platform
Welcome to BOMcheck! Sphera's award winning substance declaration and SCIP compliance platform.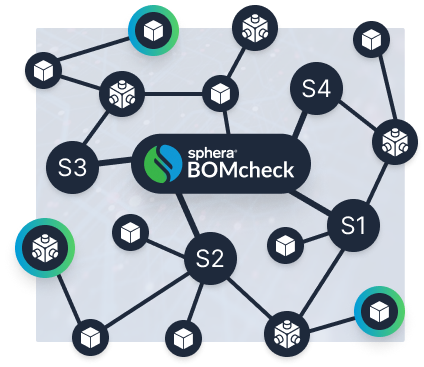 BOMcheck provides a suite of software tools, training resources, screening solutions and first class support for manufacturers and suppliers to reduce time and costs keeping up-to-date with substance regulations and making compliance declarations through complex supply chains all around the world. BOMcheck's solution includes:
Dynamic BOM management tools allows automatic compliance check of 1000's of parts any time substance lists are updated
Regulatory screening for all lists can reduce administration burden for substance compliance by up to 96%
Regulatory Compliance Declaration (RCD) tool provides concise chemicals guidance to help investigate materials
Full Materials Declaration (FMD) tool automates RCD generation and communication as new substances become regulated
Automated SCIP submissions using BOMcheck's FastTrack to Substance Compliance process is most cost-effective SCIP solution on the market
ISO 27001 certification allows for secure storage and transfer of declarations in industry standard IPC 1752A/B XML, PDF and Excel Formats
Confidentiality tools enable suppliers to control which customers have access to their FMD and/or RCD data (IP protection)
Automated SCIP Submissions
BOMcheck captures the additional supplier information required for SCIP reporting and offers a system-to-system integration to the SCIP database. Companies can use BOMcheck to manage data collection from their suppliers, roll-up the supplier parts data to create product assemblies, and generate and submit thousands of SCIP dossiers for their product assemblies automatically to the SCIP database in one go with a click of a button. You can also use BOMcheck to update and resubmit your product assemblies automatically when your suppliers update their parts data, for example when new substances are added to the REACH Candidate List.
FastTrack Substance Compliance
We have consolidated years of substance compliance knowledge from working with many of the world's largest OEMs into our FastTrack Substance Compliance process:
Scope the high spend and high material risk products
Group products based on similar BOM composition
Use ERP or purchasing system data to develop Composite BOM of parts used across all model numbers in the product group
Screen out no-risk / low risk parts to develop Compliance BOM with part numbers and supplier codes for medium and high risk parts
Upload Compliance BOM, Map Compliance BOM to all model numbers in the product group and submit dossiers to SCIP database
When suppliers update parts, BOMcheck updates the Compliance BOM and resubmits dossiers to SCIP database for all mapped model numbers
FastTrack Slide Deck
Download our FastTrack to Compliance slide deck to find out more about how member companies using the FastTrack process have now submitted tens of millions of SCIP dossiers to the SCIP database from every country in Europe and across all industry sectors including automotive, aerospace, medical.
Parent company can submit on behalf of all companies in the group
BOMcheck enables one company to submit data on behalf of another company on a voluntary or contractual basis, under the legal responsibility of the company concerned. This solution is useful for companies within a corporate group where the parent company wishes to submit data on behalf of its daughter companies, and for voluntary arrangements between companies (e.g. a brand owner submitting on behalf of a full and closely controlled supply chain). BOMcheck can arrange for the parent company to share their products dossiers directly with all companies within a corporate group, and for all companies in the group to automatically submit the same products dossiers to the SCIP database. BOMcheck can automatically update any submissions on behalf of all companies in the group when suppliers update information for any supplier parts in any products.
Reusing submissions from suppliers
BOMcheck enables companies to reuse submissions made by their suppliers. As highlighted below, the SCIP database allocates a SCIP number to each supplier part at the time of the first submission. The SCIP number is a random sequence of 36 hexadecimal characters, for example "1e991422-239c-4b49-8a42-3f4730aa51a0". There is no relationship between the SCIP number for one supplier part compared to another part submitted by the same supplier.
BOMcheck captures the SCIP numbers for supplier parts and includes them in companies' submissions for their products. BOMcheck also reports SCIP numbers in IPC-1752B XML files so that companies can reuse suppliers' parts SCIP numbers in assemblies that companies create for their products in in-house IT systems.
Without this solution, companies would need to create duplicate article submissions for supplier parts in their products that contain REACH Candidate List substances, including reporting:
Correct Article Category and the Material Category for each supplier part
Correct safe use information for each supplier part
Companies that prefer not to take on obligations to report information on behalf of their suppliers will appreciate the opportunity to reuse their suppliers' submissions instead. Reusing submissions from suppliers will also be welcomed by distributors. BOMcheck can map the distributors' parts numbers to the suppliers' part numbers and use the SCIP submission numbers to make a simplified notification to the ECHA SCIP database on behalf of the distributor. When the supplier updates their information, the distributors submissions are automatically updated.